English Hub

---
About our English Hub
In September 2018, the DfE appointed 32 English Hub schools across England to support other schools to deliver excellent early language and phonics teaching in Reception and Key Stage 1.
The Yorkshire Endeavour English Hub is one of the chosen 32 schools working in Scarborough, Whitby, Ryedale, the East Riding, York and Hambleton.
During 2018/19, we supported a wide range of schools by organising open events to share good practice; providing bespoke training for new subject leaders; and undertaking audits of phonics and early reading provision.
---
OUR PRIORITIES
The hub focuses on three priority areas:
Early language development
Providing evidence-based approaches to early language development and closing the word gap in school-based early years settings.
Age-appropriate phonics provision
Encouraging best practice in systematic synthetic phonics teaching from school-based early years provision to the end of Key Stage 1, and as the primary reading strategy throughout the school. This includes:
Encouraging fidelity to a single systematic synthetic phonics programme;
Supporting the effective use of decodable books in the early stages of learning to read, as a way of establishing phonic decoding;
Supporting effective practice in formative assessment in relation to phonics/early reading.
Promoting a love of reading
Encouraging reading for enjoyment by supporting whole school reading approaches, reading to children at least once a day and encouraging reading at home, developing teacher knowledge of children's literature.
---
HOW WE CAN SUPPORT YOUR SCHOOL
Any school can request support from the English Hub and the DfE has identified a number of schools that they would like targeted initially. However, if there is more demand than capacity, the hub will select schools to receive support based on the school's capacity to improve, the level of need for support and the level of disadvantage of the children at the school.
The support Yorkshire Endeavour English Hub will provide includes:
Two free places, per school, at Open Events (see below). 
A review of action planning following attendance at an Open Event;
Potential funding of up to £6,000 per school to invest in resources. This may be fully funded or match funded depending upon the circumstances of the school. Resources must meet certain criteria;
A full audit of a school's early language and phonics provision carried out by one of our experienced Literacy Specialists and support with further action planning;
'Medium-level support', which may include workshops and conferences;
Up to six days of school-to-school support led by one of our Literacy Specialists over the period of a year. Partner schools receiving this intensive support have already been identified for 2019/20. Further information will be provided in due course regarding a potential second cohort of partner schools for 2020/21.
---
---
Below is a summary of how the English Hub Programme Works: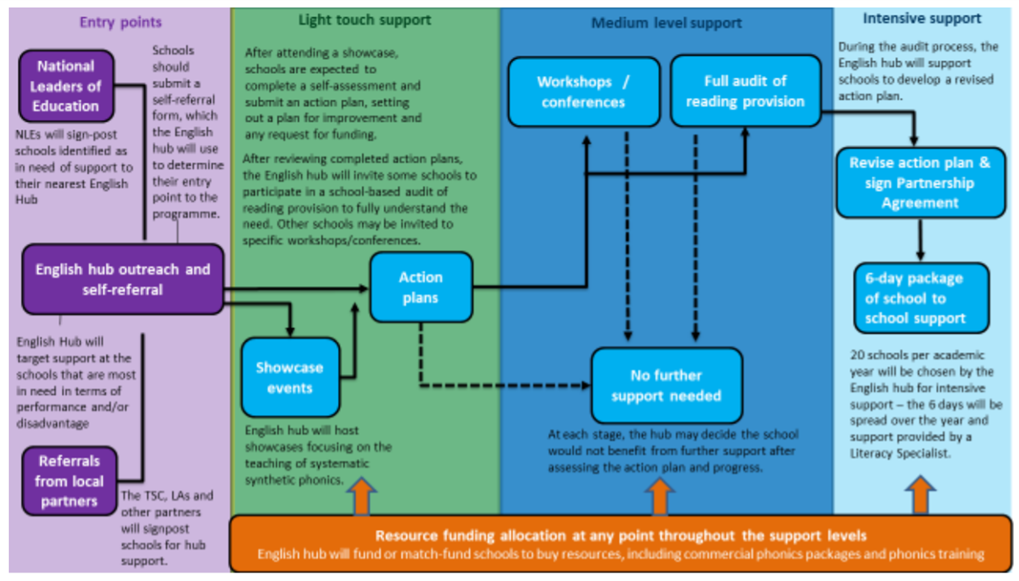 In order to get started, we need you to:
Complete a self referral form to help us understand your needs a little better. Please send this back to us at Helen Ward (headteacher.lealholm@yeat.co.uk) or Hannah Spencer (hspencer@yeat.co.uk)
Attend one of the free Open Events. These can be booked by contacting the email address above.
Please don't hesitate to get in touch. If you have any questions at any stage of the process, we will be more than happy to help.
---
---
If you would like to be added to the mailing list please complete the form below.
---
https://www.gov.uk/guidance/get-support-from-your-local-english-education-hub